Updated: 1/16/2006
Talking With Robert Chase – Daytona Prototype Constructor

© Andrew S. Hartwell

Over the last few weeks we have been talking with many people who are in on the ground floor with the new Daytona Prototypes. People who have decided the Grand Am formula makes sense for them and their circumstances.  People who see opportunity written in the rulebook and are taking measures to capitalize as fully as possible on the potential rewards.

We can now count Robert Chase, of Chase Competition Engineering, as one more of those opportunistic souls we have talked with.  His firm is an approved DP chassis constructor and, like his fellow DP constructors, Chase is putting in the hours to bring his car to life.  At present, it appears we will see at least one example of his handiwork before the end of this season.  And indications are there could be as many as three rolling chassis by early in the 2004 season.

We started our conversation by asking Chase to tell us a little about his new baby.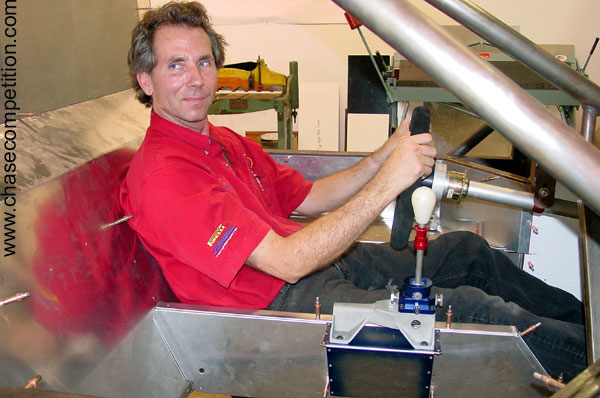 "Chase CCE-001 is what we are calling our new Daytona Prototype.  This is our first attempt at designing and building our own creation from scratch.  I designed it. I've been building cars since 1979. I've built everything from sports cars, to vintage racecars, to SCCA cars and HSR racers and more.  I came up through the ranks of SCCA production racing, running in the National races for six years in the early 1980's.  During that time I was also developing parts for various British sports racing cars.

"My partner, Jack Williams and I are the principals in Chase Competition Engineering.  Jack and I have been partners for 25 years. We met at a racetrack and have been friends ever since. We have done a lot of R&D on parts for stock car racing and cars that run in several other racing organizations.

"We are located at the Hanover Industrial Airport – right alongside a runway – in Ashland, Virginia. There are a lot of hot rod biplanes around here that are always taking off or landing all day long.  We are housed in a hangar that is part of a 5-acre complex that is fenced in and private. We have our own hangar and our own taxiway out to the runway.  Our clients can easily fly right up to our door!  It is very convenient."

We wondered if this racer / constructor ever lifts off in a plane himself?

"I don't fly myself, not as of yet anyway. But that is one of the key things on my adrenaline rush checklist! I have flown before, but not legally. I have buddies who have planes and every once in a while they just say, "Here, take it!"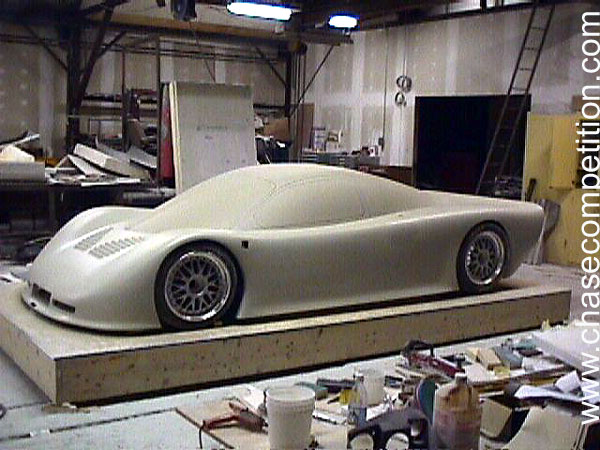 Coming back down to the ground for a minute, tell us more about your organization and your shop.

"We share space in this complex with Townsend Race Cars. They are a prominent chassis builder for NASCAR teams.  They build Winston Cup cars; Busch cars, Craftsman Truck and they build 70 or so Late Model Stock Cars a year.  There are four other racing teams that are housed in this complex as well. These teams run in the HOOTERS Pro Cup and NASCAR Late-Model series.

"We have a collection of racecars that we own, just sitting here at our shop.  We have a bunch of cars!  Between my partner and I we have an original Group 44 TR7 that won the SCCA run-offs. We have an original group 44 TR8 Trans AM car.  We have a gorgeous XKE racecar that just went through a two-year restoration, and we have 3 Lotus Turbo Esprits too. We have a couple of Porsche racecars and a 968 that we use a lot, running in endurance races in SCCA and PCA.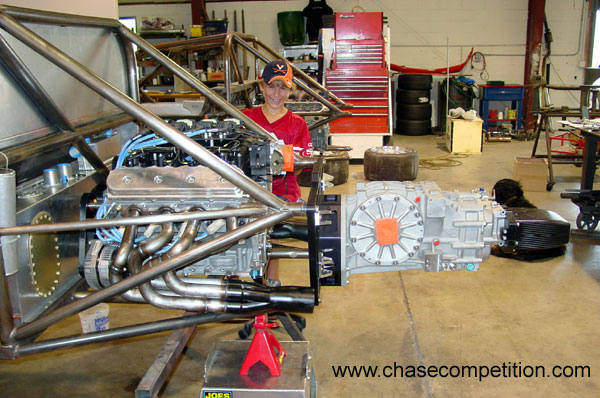 What is the current status of the Chase CCE-001?

"We currently have three DP chassis under construction.  The body molds are being finished this week. We will have a complete carbon version ready in two weeks.

"Chris Hall and Larry Huang bought our first car.  They contacted us through Mark Raffauf of Grand Am.  He told Larry what our program was about, and since Larry was already campaigning a Corvette GS1 in Grand Am Cup, he liked the styling cues of the body.  He was immediately interested and he came and saw our operation. Once he got here he decided to buy our first chassis.

"The car will be running a Corvette powerplant – the Chevy LS 6 – and the Corvette styling cues were the right choice for promoting an American sportscar.  Not only that, but we wanted to try and tie in the street cars identity with our car, something we don't think the other constructors have done."

One of the primary reasons - as stated by Grand Am President, Roger Edmondson in an earlier interview – for limiting the number of approved constructors was to make sure the support needed for the teams would be available by the car builders. Chase is aware of that consideration.

"We will be working closely with Larry once he takes delivery of the car. We are going to have a full engineering support operation at the track. We will be at all the races and will be able to handle our customer's needs.  We are going to run with Hewland gearboxes as opposed to the Emco and we are going to handle all our own transmission rebuilding and gear servicing and what have you for our clients.  I think that is a key to seeing the cars succeed."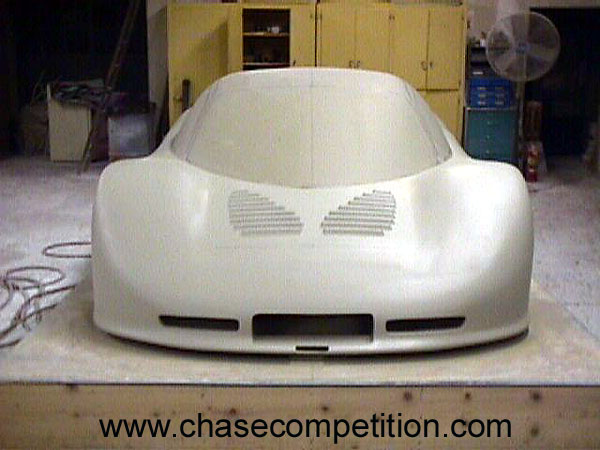 The process of starting up production of a new racecar can be readily viewed as a difficult and complex one.  The enactment of even the best plans can be corrupted by any number of gremlins and obstacles.  Given this, we wondered just how long Chase felt this process would take.

"I started drawing this car in October of last year. Right now I am still finishing it up!  I think the production facility we have allows us to build parts in numbers that make it easier for us. We have been building tube frame cars for 20 years. The chassis were originally designed to be tube frame cars if you read the rulebook. Some of the other constructor's interpretations of the rules have really taken it as far as they could. Some are trying to build monocoque type chassis into the tube frame survival cell.  I don't know if that is helping or hurting them but, when I saw the formula for the cars, and it fell within our expertise, we figured we could build a really good chassis that would run heads up with anybody.

"We were hoping to get the car tested before the VIR race, but that looks like it would be a real push.  We are bound and determined to do it, but we are at the mercy of others. We are waiting for delivery of body panels and things of that nature. If we can't properly test the car we are not going to race.  We would rather embarrass ourselves in private!

"After we constructed the first chassis we did extensive torsional testing on it and we learned tons from it.  We have since adjusted the chassis to do what it needs to do. The chassis will make or break these cars. Everybody has the same horsepower, more or less. It is going to come down to the drivers and having a car that is drivable.  And you know, that is what really attracted us to this formula.  I would have liked to have gotten out of a GT car and stepped up to an LMP prototype but I don't want to run at the speeds they can run at. Heck, I'm 46 years old and I'm starting to feel mortal! 20 years ago I didn't, you know?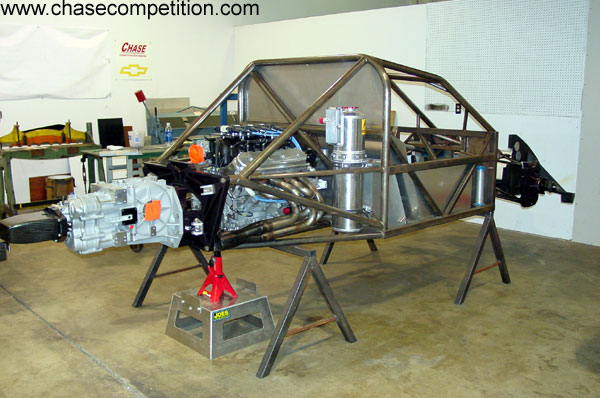 Once you get the pieces in place the process of building a second car should benefit from the lessons learned – some painfully – the first time around.  Will there be a second chassis, we wondered?

"Our second chassis is already spoken for. It is going to Odyssey Motorsports.  The car will be Chevrolet powered. Odyssey is an R&D company that was formed with Chris Mitchum as one of the principals.  Chris drives in the Rolex series and was the champion last year in the Stock Car Championship series that sometimes runs as a support race to a Grand Am event.  Chris and I co-drove in a few races last year in a GT car.  He also co-drives the Porsche 968 in the endurance races with me. We are contracted with Odyssey and we plan to develop the car together.  Odyssey will be leasing the car from Chase Competition Engineering.

Is this to be a factory effort, much like the approach taken by Kevin Doran?

"It isn't really a factory effort. We are not presenting it that way. But we are going to enter the car at some select races. 

"We will be the only DP team out there with the builders driving the car.  In the Odyssey car it will be me and Chris Mitchum driving, with Jack Williams joining us at times.  Jack has had a tremendous SCCA career. He won the run-offs, competed there for eight or nine years in a row, and won 70 something national races.  All of us are good drivers. That is one more strength we bring to our effort. We build the cars ergonomically correct from a driver's point of view.  There aren't many drivers building cars of this caliber."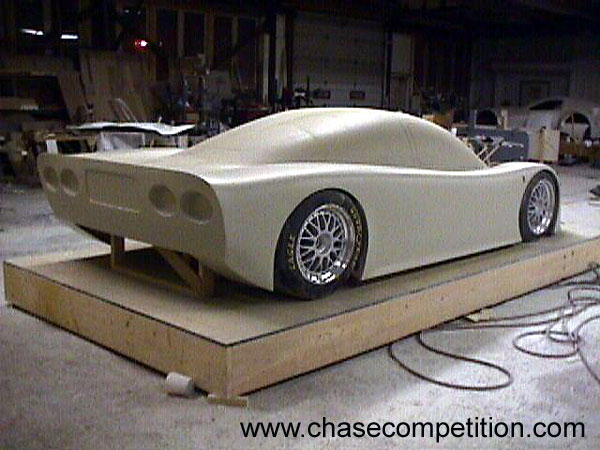 That puts two chassis firmly in line for production. Will there be a third?

"The third car right now is a spec car that we are building for a different powerplant.  I can't talk too much about that now. We are working with a very reputable firm in Europe that is building a motor for us that we plan to submit to Grand Am.  No one else has this brand motor yet. What we are looking for with that car is to have the fans identify with this famous name.  And if we can get a rich guy who prefers driving that brand to buy the car and run it, well, we will do all we can to support him!"

Like Kevin Doran, Terry Rohr, Max and Jan Crawford, and Dave Klym, Chase has made a commitment of time and dollars to this project. Businessmen all (save for businesswoman Jan Crawford!) this group would never have taken their companies and their reputations down this road without good reason. Chase tells us his reasons here.

"The Grand Am formula is right. It is not rocket science to build one of these cars. They are proper racecars, don't get me wrong, but it isn't like building an LMP car. To us, it is more like a mid-engined Trans Am car with a more sophisticated suspension and electronics package. 

"I think the series itself as a whole – because of the pricing structure on it – has a lot to offer.  The car costs $325,000 to buy but the real expense comes in running it for a season. I'm a realist and I look at the budgets and I'm sure there are racers out there who would sell their houses and families to own one of these, but it is campaigning the car that weeds out the buying pool.  On the flip side, there are a lot of people who would love to own and drive an LMP car but the budget just isn't there.  But the budget for running these cars is something they can handle.

"You could run a season in DP for around $850,000 but that is going to be for an owner-driver effort, with someone who can really keep control of the expenses.  They would have to rent out the seat at the 24 hours to help with some of the costs.  If you can get past that one, and the six hours at Watkins Glen, the rest are all sprint races.  It wouldn't be any more expensive than it is to run a GT car now.

"The motors we are running will last a lot longer than the motors in the GT cars.  Those things are tweaked unbelievably.  It is a good formula in the engine department because you don't have to spend mega-bucks to make fairly formidable horsepower. It's enough to propel the car at a decent speed, but not breakneck speed like an LMP car.  But you have a longevity that you don't have with the other motors.

"Our engine builder is Mike Kovacs from Florida.  These engines are good for 50 hours.  I know that you can run all your practice for the 24, run the race, freshen the engine and then run another five or six races on that same motor. Freshen it again and you can finish out the year.  When I say freshen it I mean spending between $15 and $18,000.  The cost of a new one of these is just $32,000.  And that is for a good R&D tested, tried and true motor. That is what sold me on Mike.  His car won GTO in the Rolex 24 hours and the other cars that ran his motors all finished the race too."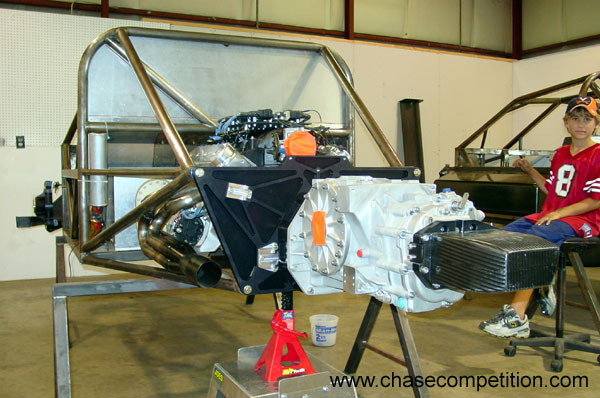 The man is certainly making his argument in support of his decision to participate in Grand Am's "Grand Experiment".  And you could say he intends to make a splash when his Chase CCE-001 hits the grid at the next Rolex 24 hours of Daytona.

"The Odyssey car will debut at the Rolex 2004. I think it will look like it was shot with paint balls at 200 miles an hour!  We haven't decided on the base color yet. It might be a baby blue or a dark green, something bold.  We just want something different for the 24 hours race.  We'd like to have something that will just explode with color in the lights."

And Grand AM is hoping those exploding colors will be reflected in the eyes of many a spectator.